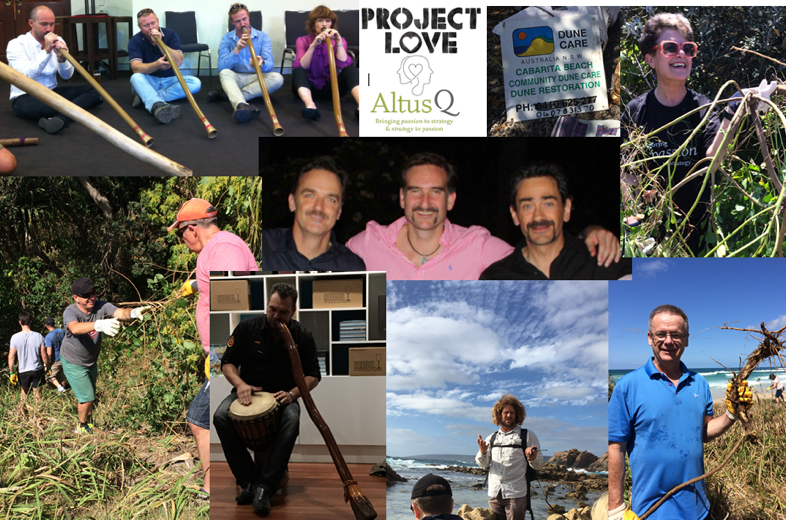 Over the years we have acted collectively to support numerous businesses, NGOs, charities and community groups.
In addition, we encourage our coaches to contribute of their skills to their local communities – to assist their local areas in building business strategy, leadership capability, etc.
Examples of our Love Projects include:
Pacific Dermatology - voluntary board position
Cabarita Beach Community Dune Care – coastal dune rehabilitation & conservation program: Weeding out non-native flora and replanting native vegetation.

Working with local indigenous peoples to bring their culture and values to awareness in our team and clients.

Teenager at Risk Half-Way House - Team A: painting and refurb of kitchen.  Team B: yard and general area clean up.  Team C: Coaching the CEO and management team
Children's Leukaemia and Cancer Research Foundation – Board coaching on strategy development
Wingate Avenue Community Centre – Team development days, management team training etc.
Heart Kids – Chairman role
The Humanitarian Group (WA) – Chairman role
Jesuit College of Spirituality – Fit for Leadership: Rebooting Spiritual Fitness – Leadership programs joint venture
Australian Fundraising Institute – NFP mentoring program
Garvan Institute – team and individual coaching
Beaumont consulting –mentoring program for 30 NFP's on leadership skills
Helping Hands – leadership and coaching skills program
Salvos Legal – Leadership workshops, Board strategy alignment, Partner Executive Coaching – NFP pricing
Salvos Legal – Pro bono Partner coaching
BreakThru People Solutions – Leadership workshops, Executive Coaching – NFP pricing
Stretch-A-Family – Business coaching, Leadership Workshops, Board strategy alignment –  NFP pricing.