Case study: Achieving strategic clarity
Overview: $750m FinTech experiencing explosive growth resulting in unclear priorities. Coaching delivered a clear and aligned 5-year vision which led to significant client wins.
Years of rapid expansion had resulted in a culture where the 'urgent constantly overwhelmed the important', and the infrastructure was 'creaking'

Industry disruption is anticipated & competition for clients is fierce

The Board was directing management to continue to the growth, but strategic direction was unclear, meaning no priorities could be set

Staff Surveys revealed inconsistent understanding of, or alignment to, management priorities.
2-Day Strategy Offsite to clarify and align contextual choices and value drivers, followed by a program of regular implementation meetings: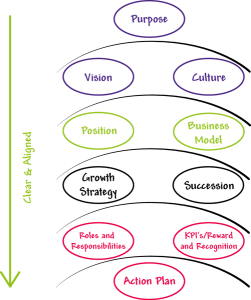 Management & board developed a clear and aligned 5 Year Vision for the firm, which was then communicated to all stakeholders

8 specific goals were identified with implementation plans developed

These were integrated into the annual budget, and individual management accountability for each was assigned

Strategic re-alignment of operations executed, including investment in infrastructure, and hiring programs

Senior management freed up to re-focus on external strategic opportunities, resulting in a major client win.